Medical SEO Services
See Your Healthcare Business Ranking on Google's 1st Page.
A Medical SEO Agency That Understands the Complexities of Your B2C or B2B Healthcare Business
Running an effective on- and off-page SEO campaign requires expert online marketing knowledge – and if you're a healthcare business, it also requires advanced knowledge of the medical industry.
We have over 10 years of experience planning and implementing successful medical SEO campaigns for businesses like hospitals, pharmacies, labs, EMRs, patient portals, medical billing companies, and lab software companies. We understand what it takes to rank well in Google, and our goal is to get real results that are both fast and sustainable for your company.
---
Grow Your Business and Your Online Presence Through Medical SEO
SEO (or search engine optimization) is a digital marketing strategy aimed at increasing a website's visibility in search engine results pages. You'll see more new leads, as well as an increased presence in online search engines and web-based directories – meaning that new patients or customers will have an easier time finding your website when they're searching keywords related to your business.
We focus our campaigns around the keywords that make the most sense for your organization, which brings you the greatest amount of exposure for your budget. A significant amount of attention is paid to analyzing which are the keywords most likely to bring leads who are ready to become patients or customers, and to making sure that those keywords are prioritized.
Combining Medical SEO with Pay-Per-Click Advertising (PPC)
Our clients see the most impactful results by combining medical SEO services with a healthcare PPC advertising campaign on Google, Bing, or both. Using PPC concurrently with SEO helps to bring leads quicker, as well as to increase lead volume while front-page rankings are being attained. Many clients are able to reduce their PPC spend once satisfactory organic rankings are achieved (or pause PPC altogether).
---
Read a SEO Case Study from a Medical Web Experts Client
See a case study on how Medical Web Experts helped a fertility clinic increase their organic site traffic by 187% over 16 months.
---
Elements of a Medical SEO Campaign
Project Plan & Keyword Research
SEO starts with research, the formation of a project plan, and selection of keywords that are most likely to bring leads that are ready to convert into customers.
On-page optimizations
Small changes code and site structure can make a big difference. This includes the addition of optimized page title tags and meta descriptions, load speed and image optimization, HTML markup, Google-friendly tagging and site architecture, and more.
Website Content Updates and Keyword Optimizations
Strategically optimizing site content for your target keywords is an essential part of a medical SEO campaign. Our medical content writing team will add new pages that target specific keywords, as well as update existing pages. Great content feeds into all aspects of your marketing campaign.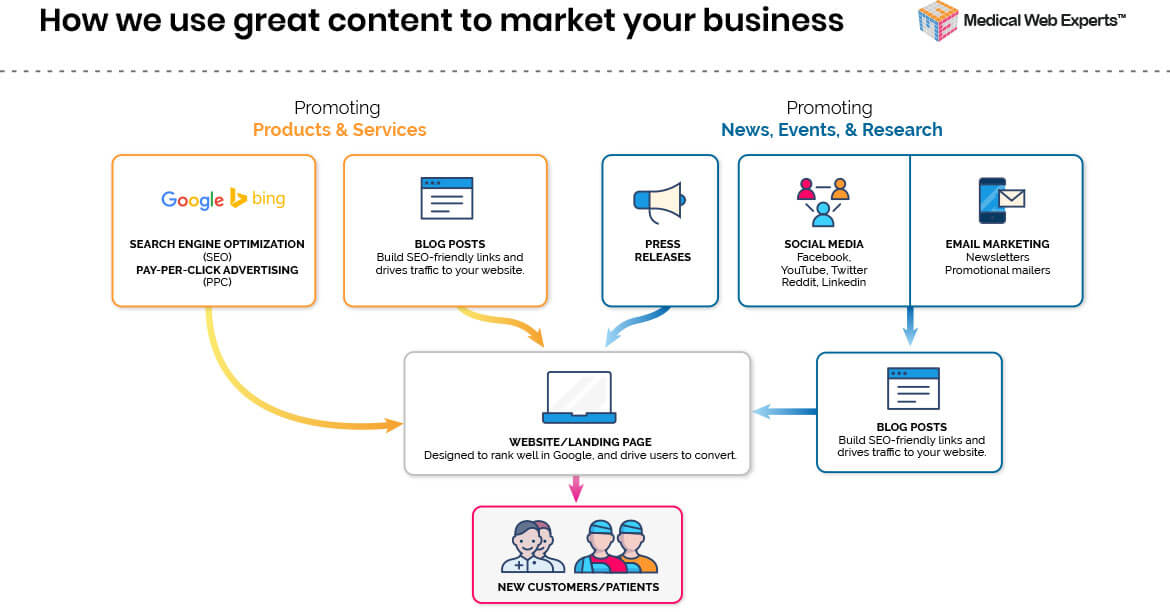 Blogging
Blogging is an excellent way to post fresh content monthly with embedded keywords. Your website's blog will be updated with SEO-optimized posts. (Don't have a blog? We can build you a medical website blog.)
Social media is a valuable way to create links back to your website, which increases your likelihood of ranking in search engines. We optimize your presence on platforms like Facebook, Google My Business (Google Maps), Linkedin, Twitter, Pinterest, Instagram, and/or others. We discuss social media with each of our clients before beginning an SEO campaign in order to prioritize the sites that make the most sense for your business.
Reputation Management
Online directory listings – like Yelp, Google Maps, Bing Places, Yellowpages, and others – are an essential method of building links from Google-trusted sites to your website. These links increase your site's ability to be crawled by Google, and similar to social media links, its likelihood of ranking for your keywords.
Monthly Reporting & Analysis
Monthly analysis of campaign progress and keyword rankings is the best way to assess a medical SEO campaign's success. Your report will show your current rankings for your target keywords as well as lead generation from your SEO campaign.
---
The Risks of Choosing a Local Agency for Medical SEO Services
If you're marketing a healthcare business online, it's important that your agency understands the requirements for HIPAA compliance, as well as advertising restrictions on medical businesses. Most local agencies don't specialize in medical, and are unaware of the need for healthcare businesses to consider HIPAA regulations when building a website or running a marketing campaign. We're experts in HIPAA, are willing to sign a BA agreement if your business requires it, and understand the considerations that a healthcare marketing campaign requires.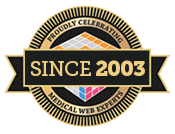 Trusted by Healthcare Since 2003
With over 10 years of experience managing medical SEO campaigns, our team understands the challenges and requirements of a successful campaign. Your business will benefit from a dedicated Account Manager and an SEO team with advanced knowledge in marketing for hospitals, pharmacies, software businesses, and more.
---
Get a FREE Web Presence Audit for Medical SEO, HIPAA, & More
With our Web Presence Audit, you'll get a report showing how your site scores on four key factors: SEO, HIPAA compliance, online reputation, and mobile-compatibility. Contact us online or call 866-932-9944 to get started.

We've worked with Medical Web Experts for 4 years, and they've helped our practice's presence grow immensely since we started out. We love our website, and more and more new patients are reporting that they found us online. The MWE team is responsive, highly knowledgeable and always ready with an effective solution to our problems.
---