Medical Content Writing
Website, Blog, Video Script, and Other Services Tailored to Your Needs
Professional, Tailored Web Content and Patient Education Materials from the Best Medical Content Writing Company
Content is the foundation of any healthcare website, blog, or marketing campaign. Keep your online and offline presence up-to-date and fully SEO-optimized. Since 2003, Medical Web Experts has been providing medical content writing services for a comprehensive range of channels for hospitals, pharmacies, and other healthcare businesses.
Whether you're building a website or managing a healthcare internet marketing campaign marketing campaign, our medical content writers' knowledge and experience gives your healthcare organization a competitive edge that you won't find anywhere else.
---
Experts in Medical Content Writing for the Healthcare Industry
Whether you need plain language patient education materials, high level content for physicians, a script for medical video production, or a healthcare email marketing strategy, we have the experience for it. Whether you need ten pages or one hundred, we can take it on.
The members of our medical content writing services team have backgrounds in communications or the healthcare industry, in addition to years of experience producing medical content for a variety of channels. Trained in communications for patients, writing about research, marketing content, educational content, and SEO optimization, they are ready to make your content project a success.
---
Experts in Content for the Medical Industry
Your Vision – Your Schedule
Meeting our clients' needs is important to us. We take the time to listen to your goals, and we're prepared to provide medical content writing services within your team's deadlines.
SEO-Optimized and 100% Unique
We're SEO and content marketing experts. Tell us your goals, and we'll craft original content that's perfectly optimized for your keywords.
Medically Reviewed
For projects that require physician review, we offer editing and review services from a licensed medical professional.
---
Medical Content Writing Services We Offer
Your healthcare organization may be considering an external medical content writing company because you have a high volume of new content that you need to produce, because you need experts for a variety of marketing channels, or because you want to update what you already have to improve readability and SEO. Whatever your goals, the experienced writers, editors, and content strategy professionals at Medical Web Experts will be able to create the high quality content your healthcare organization needs, thoroughly researched and tailored to the right style, length, audience, and channel.
For each project, our medical content writing team meets with the client to better understand audience, vision, and messages. We then set up a content generation and approval process that fits your timeline.
We offer:
Website content
Video scripts and storyboards
Content for patient or physician audiences
Medical/healthcare articles
Mobile app content
Legal disclaimers (for web or apps)
Thoroughly researched
100% unique
---
Supplementing Your Marketing Campaign With Great Content
High-quality content feeds into a successful marketing campaign. When incorporated into your marketing strategy, web content in the form of blog posts, landing pages, patient education resources, and off-page content like press releases can help drive quality traffic to your site.
---
Medical Content Writing Expertise Trusted by Industry Leaders
---
Better Results, More Leads, and More Time Saved with High Quality Medical Content Writing Services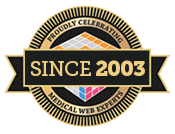 Trusted by Healthcare Since 2003
Our approach to medical content writing is results-driven – meaning that we're focused on meeting your goals and producing marketing materials that will help you get more web traffic to your healthcare website, and ultimately more business. By leveraging our experience with healthcare, digital and print marketing, and SEO, we're able to provide content that converts better and brings you more business.
---

We've worked with Medical Web Experts for 4 years, and they've helped our practice's presence grow immensely since we started out. We love our website, and more and more new patients are reporting that they found us online. The MWE team is responsive, highly knowledgeable and always ready with an effective solution to our problems.
Kate Freeman RN, MSN, ACNP-BC, FNP-BC Surgone Foregut Institute
Kate Freeman RN, MSN, ACNP-BC, FNP-BC Surgone Foregut Institute